The educational program at the heart of Toastmasters is 'Competent Communicator' otherwise known as Your First 10 Speeches. It provides members with a proven curriculum that develops communication and leadership skills one step at a time, with many opportunities for awards and recognition along the way.  Learn more about Your First 10 Speeches below or find out more about the other Toastmasters educational programs:
Learn more about Advanced Communicator speaking projects
Learn more about the Toastmasters Leadership Track
Your First 10 Speeches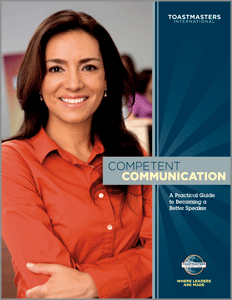 The ten speech projects in the Toastmasters Competent Communicator manual will help you develop your speaking skills one step at a time. When you finish all of the projects, you are eligible for Competent Communicator (CC) recognition, a valuable award recognised internationally.
After each speech project you will receive feedback from an experienced evaluator.  You will learn what you are doing well, and what areas to improve on.  With each speech you will find you find yourself getting better and better!
Summary of the 10 projects:
1) The Ice Breaker
This is a four to six minute speech the purpose of which is precisely to get started and "break the ice". The subject of the speech is yourself and you aim to introduce yourself to your fellow members, in the process getting used to speaking before an audience and discovering speaking skills you already have. This speech sets a benchmark for your subsequent progress.
2) Organize Your Speech
In this and subsequent speeches you are expected to choose your own topic. The focus of the training is on the development of skills. This is a five to seven minute speech in which you focus on developing a structure to your speech. You are advised to work around creating a clear opening, body and conclusion and to focus on making three main points.
3) Get to the Point
You focus in your third speech on developing a clear purpose to your speech and communicating that effectively.
4) How to Say It
The focus shifts to style and presentation – here use of language is the skill that is under the limelight. You work on appropriate choice of vocabulary, clear and vivid structures and use of rhetorical devices.
5) Your Body Speaks
The focus remains with style and presentation – this time looking at non-verbal communication through the use of body language.

6) Vocal Variety
You pay attention to the development of your speaking voice. Other points to focus on are breathing and posture, the use of silence, the value of rehearsal.
7) Research Your Topic
The training programme shifts back to the presentation of content. Good argument depends on good research and you practice that skill in this speech, focusing on the use of statistics, testimony, examples, visual aids and facts to support your points and conclusion.
8) Get Comfortable with Visual Aids
The focus specifically shifts to the skill of using visual aids effectively when making a presentation. You are expected to design a speech around the appropriate choice of visual material.
9) Persuade with Power
As the title suggests your are attempting to combine all the skills you have learnt so far to present a powerful and persuasive speech. Particular focus in this speech is on the needs and character of your audience.
10) Inspire Your Audience
This is another speech that tests your ability to put all your skills into practice in a single forceful presentation.
When you finish all of the projects, you are eligible for Competent Communicator (CC) recognition. You'll receive a CC certificate and, if this is your first CC award, two Advanced Communication Series manuals free of charge.